The FOB Code File represents the normal location that merchandise shipped by the vendor is Free on Board (see FOB in the Accounts Payable Glossary).  It is used in the Purchase Order and Receiving package when purchase orders are being entered.  Whenever the FOB code is entered at a terminal it will be looked up in this file and the description will be displayed.
    Select FOB Code File from the pull down A/P Maintenance window.  The following screen will then be displayed: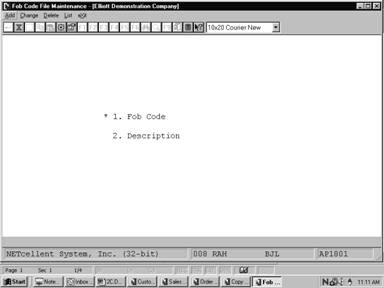 FOB Code File Maintenance Entry Screen
Screens
The following options are available:
              *        Select the desired mode from the FOB Code File menu bar
              *        Enter the data requested on the screen
              *        To exit press the ESC or F10 key when the cursor is positioned for entry of the first field on the screen
              *        If the List is selected, all FOB Codes on file will be printed with their descriptions
    To return to the menu bar, press the ESC or F10 key.
Entry Field Descriptions
Name

Type and Description

1.   Fob Code

2 alphanumeric characters.

Choose a two‑character code for the location being entered.  For example, San Francisco might be represented as S.  All vendors who normally ship merchandise FOB from San Francisco would be given this code.

In change or delete mode, press the F7 key to search for the FOB Code.

2.   Description

12 alphanumeric characters.

Enter a description of the FOB code, which will make it clear to the operator at a glance whether or not he has entered the correct code.
Screens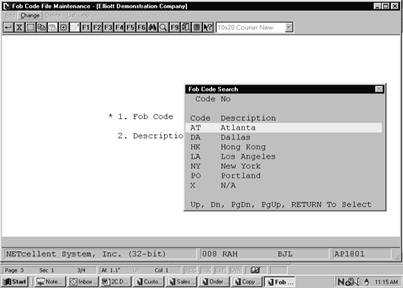 FOB Code File Maintenance (FOB Code Search)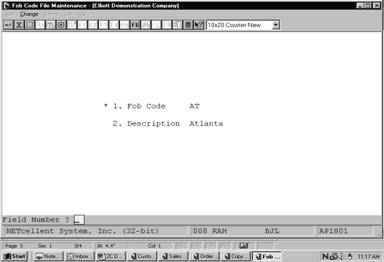 FOB Code File Maintenance
REPORTS
                                                     F O B   C O D E   L I S T
Fob   Description
Code
 AT   Atlanta
 DA   Dallas
 HK   Hong Kong
 LA   Los Angeles
 NY   New York
 PO   Portland
 X    N/A
    7 Fob Codes On File