This is one of four files required for processing freight calculation in Customer Order Processing.  They are part of Accounts Receivable Maintenance due to their relationship with A/R Customers and Ship Via Codes.
This predefined file contains all the freight rate tables for UPS, RPS, Federal Express, and U.S. Postal Service.  The user may print this file out for review of the rate tables for the predefined Carriers.  This file can be accessed from the A/R Maintenance pulldown menu.
Note:    The Freight Rate List Report is approximately 180 pages.
 
A/R Freight Rate File Maintenance Screen
Entry Field Description
NAME

TYPE AND DESCRIPTION

1.  Carrier Code

3 alphanumeric characters

Enter the carrier code

2.  Carrier Mode

1 alphanumeric character

Enter the carrier mode.  Carrier mode is the method of shipment for this carrier.

3.  Zone Number

2 alpha numeric characters

Enter the zone number.  Zone numbers are defined by carriers to represent different locations.  Different carriers might have different ways of defining zones; therefore, it is not necessary that the zone for a particular area be the same for different carriers.  For each carrier, zone numbers might vary from mode to mode.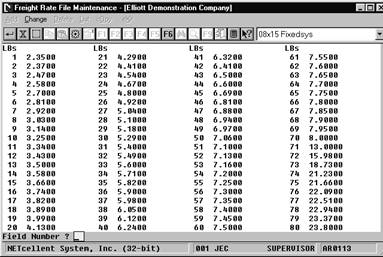 Predefined Freight Rate Table for UPS, Ground, Zone 2.