This application allows you to process credit card payments as a cash receipts function with postings and distributions as determined by the Credit Card Source File, (AR Maintenance).
AR Main Menu Ò Processing Ò Credit Card Transaction Handling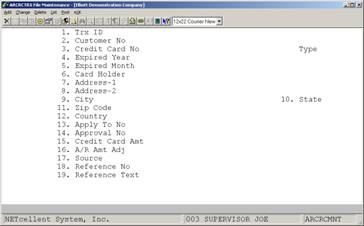 Credit Card Entry Screen
Standard Options Available
· Delete
Key Field Entry Descriptions
Field 3              Must be Valid Credit Card Number
Field 13             Invoice that the payment is being applied to.  May be left blank if pre-payment or customer deposit.
Field 14             Approval should be obtained before posting payment to customer account.
Field 15             Total amount being charged to credit card
Field 16             Adjustments for surcharge (negative amt) or for Sales Discounts (Positive Amt). 
Field 15 + Field 16 must equal the invoice amount.
Field 17             Must be valid source setup in Credit Card Source File maintenance
Field 18             For internal tracking if needed
Field 19             Describes field 18
Field 20             Select "Y" when invoice has not been posted, for deposit or prepayment.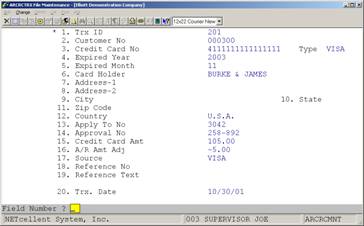 Credit Card Payment Entered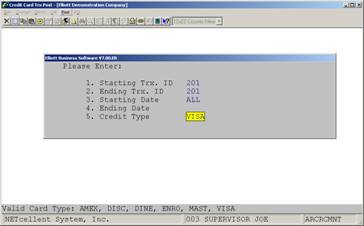 Posting Function
Run Date: Oct 30, 2001 - 10:40pm         Elliott Demonstration Company                                                     Page    1
                C R E D I T   T R X .    P O S T E D   L I S T                                                                      
   Trx-ID Cust-No Credit-No Type Exp-YY Exp-MM  Post-Date  Apply-To   Credit-Amt      Amt-Adj                                      
      201 000300   X--X1111 VISA   2003     11   10/30/01      3042       105.00         5.00-                                     
Transfer Done!       
Posting Journal