This enhancement allows users to void a printed invoice before it is posted to Accounts Receivable.  If already posted to Accounts Receivable, you must back it out (void) with a Credit memo.
From COP Menu select Util-Setup, Void Invoice, and then Inquire.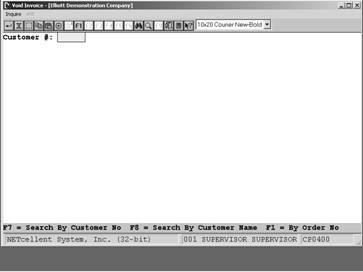 Void Invoice – Inquire Screen
Enter Customer Number

F7 Key to search for by Customer Number
F8 Key to search for by Customer Name
F1 Key to search for by Order No.          
If you select to search by Customer Number or Name, a popup window gives you additional search fields for Telephone number, Contact, City, ZIP code, or Customer Type.
If you elect to search by Order Number:
F1 = List open orders
F2 = List all orders
F7 = Search by P.O. number
F8 = Search by Ship-To
After you have the Customer screen with open orders, see figure below, highlight he order number for the Invoice you wish to Void and press return.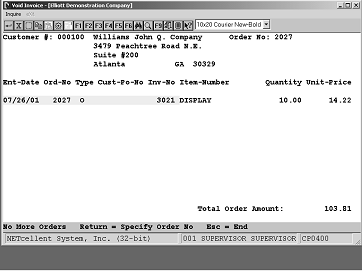 Press return brings up a like window as shown below.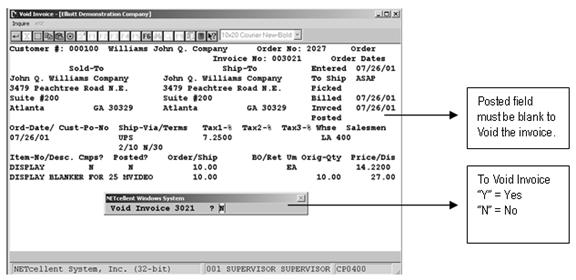 After you select "Y" or "N" you will be returned to the previous screen as displayed in figure at top of this page.