This report presents data from the COP payment history file.  You can print the report for one to five users or for all users, give starting and ending dates (the default is the system date), subtotal by date, print one to five workstations or all workstations, subtotal by workstation, select one to five payment types, give starting and ending times, select one or all payment source, print a subtotal and grand total, a grand total only or no total and you can select a document source of orders and open payments, open payments only or all payments.
From the COP Menu, select Reports and Payment History Report.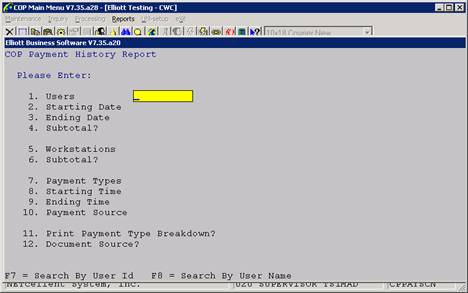 After you have completed the required information in the above window, you will be prompted if you want to Print to hardcopy, print to Screen, save to Disk, Defer, or Email.
Partial Report View
Run Date: Nov  7, 2005 -  9:21am         Elliott Testing - CWC                                                             Page    1
                                        C O P   P A Y M E N T   H I S T O R Y   R E P O R T                                         
Currently printing user: CWC                                                                     Printing payments for all documents
For All Users                                                                                                                      
For Dates 01/01/01 Thru 01/01/06                                                                                                    
For All Workstations                                                                                                               
For Times 00:00:00 Thru 23:59:59                                                                                                    
For All Payment Types                                                                                                              
For All Payment Sources                                                                                                             
Trx-Date  Workstation  Pay Type    Trx-Time  Doc No   Ref#   Apply To            Amount       Cust #  Customer Name                
09/27/04  TS1CWC       Cred Card   10:12:45  000001   6252   Ord# 002505          10.00       000100  TESTING                      
09/27/04  TS1CWC       Cred Card   10:13:39  000002   6252   Ord# 002506          10.00       000100  TESTING                      
                                           Subtotal for User CWC       :          20.00