This feature allows you to search for an order or invoice by Purchase Order Number when doing inquires by Customer or Invoice numbers in Order Inquiry and Invoice Inquiry.  This is extremely useful, especially since the customer seldom knows his Order or Customer Number, but always know his P.O. Number.
This is a required maintenance process the first time you use the system because it generates a file to hold the P.O. information.  Additionally, it can be used as a utility tool to rebuild the file should you feel your data is incorrect or corrupted.
From COP Menu, select Util-setup, Generate po reference, and then Generate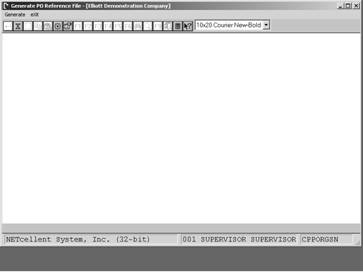 After you select Generate from the menu, the system will process internally and then prompt if if you want to print a P.O. Generate Summary Report to hardcopy, screen, disk, defer, or e-mail.  The Summary Report is a one-line recap of how many P.O. references were generated.