This file stores posted customer invoice history for the user-defined codes in 12-month buckets. Since this file is updated when COP invoices are posted to A/R, very little maintenance is required.  The List function in the maintenance program serves as a powerful tool for analytical purposes.
Select Yearly Cust User-Def Code from the pull down COP Maintenance window.
The following options are available:
   Select the desired mode from the file maintenance menu bar.
1. Add: Primarily used to add history to a given year for a customer by code.
2. Change: Used to update blank period buckets, (add historical data), and adjust dollar and quantity amounts for a customer by code.
3. Delete: Used for deleting a year for a customer by code.
4. List: Reporting features with a wide range of selection criteria for reporting and analytical purposes.  The report layout format lists the Customer, Code, Year, Month, Sales Amount, Quantity, and Cost.
       *  Codes must be setup in the User-Defined Code file prior to performing any maintenance.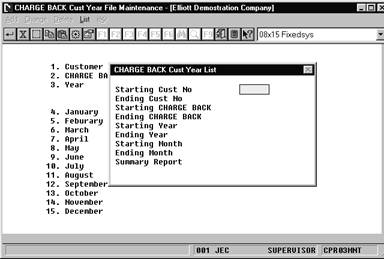 Selection Criteria For Data To Be Reported
U S E R   D E F   C O D E   C U S T   Y E A R   L I S T
   Ranges: Customer No 000100 Thru 000100                                                                                          
           Reason Code COOP   Thru COOP                                                                                            
           Year 2000 Thru 2000                                                                                                     
           Month 01 Thru 12                                                                                                        
           Detail Report                                                                                                           
   Code     Description                     Year  Period          Sales Amt         Quantity             Cost                                                                                                                                         
000100   Williams John Q. Company
   COOP     CO-OP                           2000  April            1,035.00            20.00           945.40                      
                                                  YTD              1,035.00            20.00           945.40                                                                                                                                           
   Subtotal (000100)                                               1,035.00            20.00           945.40
   Grand Total (YTD) :                                             1,035.00            20.00           945.40                      
   Grand Total (Range) :                                           1,035.00            20.00           945.40
Report Example for Cust. 100 for Code COOP