The Reset Fully Paid Status application will reset the fully paid status for records in the A/P Open Item File.
This application is available so that if there is ever any doubt about the status of existing vouchers in the A/P Open Item File there is a way to reset the appropriate status flags.  It compares all payments and credit memos for a particular voucher and determines if the voucher has been fully paid.  This application is a utility that will only be run as needed.
Note:  Before proceeding with this application, prepare a backup of your data files.  The actual processing time is dependent on the size of the A/P Open Item File.  The larger the file, the longer it may take to run this application.
      Select Reset Fully Paid Status from the pull down A/P Util_setup window.  The following screen will then be displayed: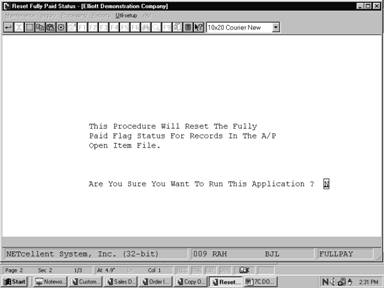 Reset Fully Paid Status Entry Screen
 The following options are available:
                  *     Select the desired mode from the Reset Fully Paid Status menu bar.
                  *     Enter the data requested on the screen.
      To return to the menu bar, press the ESC or F10 key. To leave this application, press X for EXIT when positioned at the menu bar.
Entry Field Descriptions
Name

Type and Description

Are You Sure You Want To Run This Application?

Y or N.

Default is N.