The Buyer/Analyst Code File Maintenance application maintains a convenient table of buyers/analysts for each inventory item on file. All receivings of inventory (via Purchase Order And Receiving package) are made using the two‑character buyer/analyst code.  The buyer/analyst name is used on reports, or on entry screens, where verification of a buyer/analyst is required.  All buyer/analyst codes used by your company must be entered into this file.
      Select Buyer/Analyst Code File from the pull down I/M Maintenance window.  The following screen will then be displayed: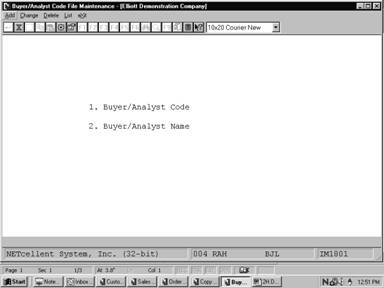 Buyer/Analyst Code File Entry Screen
 The following options are available:
                  *     Select the desired mode from the Buyer/Analyst Code File menu bar
                  *     Enter the data requested on the screen
      To return to the menu bar, press the ESC or F10 key. To leave this application, press X for EXIT when positioned at the menu bar.
Entry Field Descriptions
Name

Type and Description

1.      Buyer/Analyst Code

2 alphanumeric characters.

Enter the two‑character code, which will be used to identify the buyer/analyst name below.

In the change or delete mode, press the F7 key to search for buyer/analyst.

2.      Buyer/Analyst Name

15 alphanumeric characters.

Enter the buyer/analyst's name. This name will appear on various reports and screens in the package.
Screens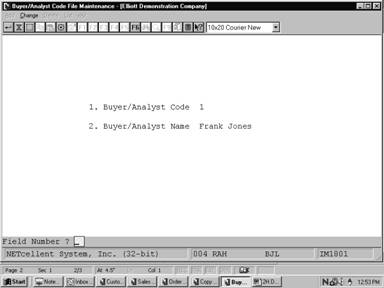 Buyer/Analyst Code File