This application enables you to purge obsolete vendor items that have not been ordered for a long time. It purges items from the Item Vendor File through a specified Last Activity Date.
    Select Purge Item Vendor File from the pull down P/O Processing window.  The following screen will then be displayed: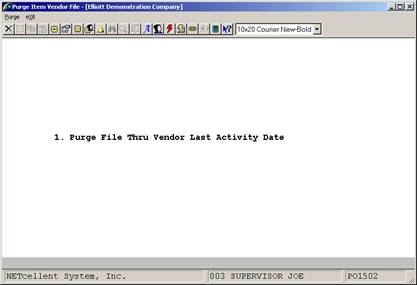 The following options are available:
              *        Select the desired mode from the Purge Item Vendor File menu bar
              *        Enter the data requested on the screen
              *        All item/vendor relationships for which the last activity date is on or before the date you enter will be deleted from the file. Once you have verified the entry as cor­rect, the program will begin processing. You will be asked to wait until processing occurs. A message will display on the screen to inform you when processing is complete.
              *        This function requires exclusive use of the Item Vendor file. It should be run at a time when it will not interfere with other functions and other applications that require use of the file. If anyone else is using the file, a message will appear on the screen, informing you to have them exit their application so that the purge may continue.
    To return to the menu bar, press the ESC or F10 key. To leave this application, press X for EXIT when positioned at the menu bar.
Entry Field Descriptions
Name

Type and Description

Purge File Through Vendor Last Activity Date

A date in the standard date format.

Enter the date that will serve as the cut‑off during the purge of the Item Vendor file. The purge program will delete all Item Ven­dor records for which the last activity date is the same as or before the date you enter here.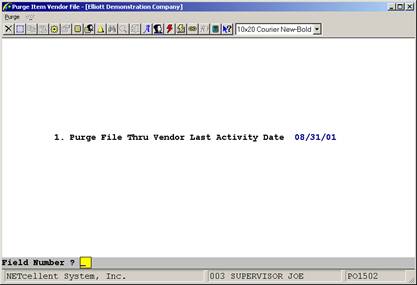 Purge Item Vendor File